[UPDATED] 12. Metality Beertasting w/ Brewers Fantasy & Thundermother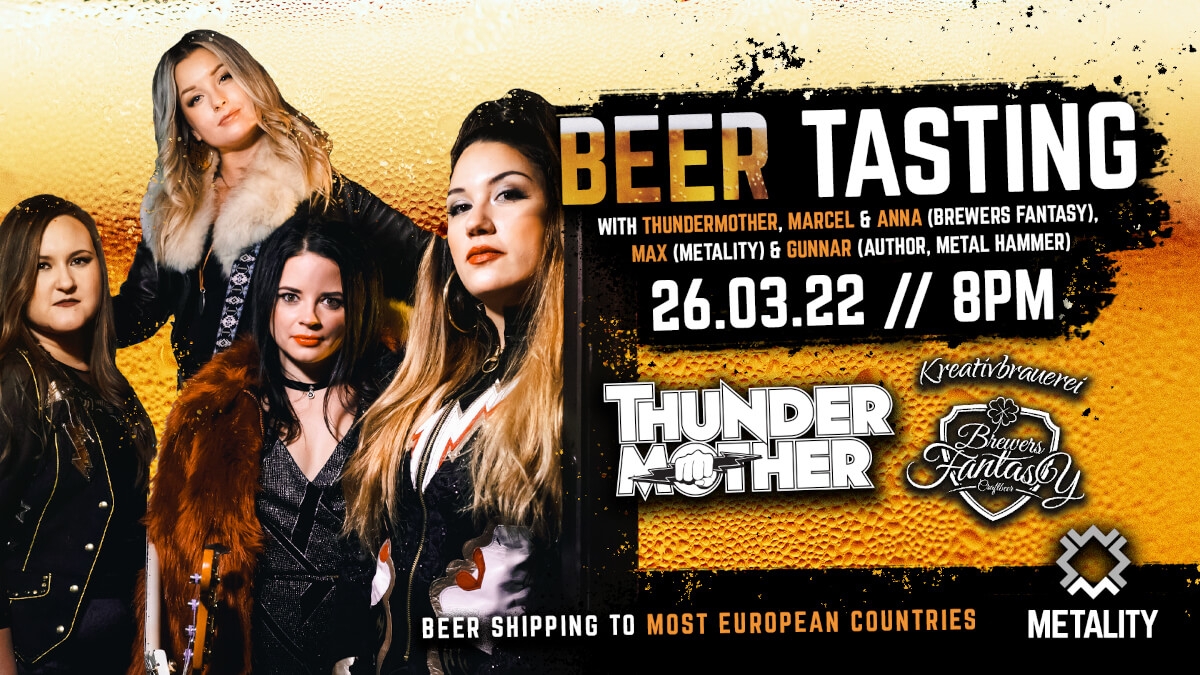 In March we will celebrate out 12th beer tasting - and the second in english! Our special guests will be Thundermother
[UPDATE 03/10/22]
"If I knew that tomorrow the world would end, I would plant a little apple tree today." Loosely based on Martin Luther.
We thought long and hard about canceling our next Beer Tasting, given the immeasurable suffering Putin has brought upon Ukraine with his war.
But could we really make a meaningful contribution to improving the situation by canceling? We think: no. That's why we decided to use our beer tasting for a big live fundraiser. Our Swedish guests from Thundermother will auction off a surprise from their collection to support the campaign.
We also look forward to receiving as many other donations as possible before and during the tasting. Our Paypal account https://www.paypal.me/metality is now activated.
The proceeds of the evening will immediately go to our trusted partners from the Hamburg relief organization Hanseatic Help (https://www.hanseatic-help.org/ukraine-hilfe/), who are concentrating all their efforts these days on delivering urgently needed relief supplies to Ukraine. Among them also sleeping bags, as we have already (thanks to your help!!!) so successfully donated for the "Outsiders outside". And above all emergency backpacks, as you know them from festival paramedics. They contain everything you need for the first aid of injured people. A backpack costs around 300 euros. What do you think? We can get more than one together!
So order your beer package for the tasting today. Make your friends and acquaintances aware of it. The more we are on March 26th, the more we can help!
Stay tuned. More details are coming soon
[/UPDATE]
At March, 26th Thundermother will join our beer tasting event. Anna & Marcel will present their Brewers Fantasy beers
Metality will be represented by Max, the moderator will be Gunnar Sauermann from the Metal Hammer Magazine
The beers
1 x 0,5 Ltr. Nibelungen Bier
1 x 0,5 Ltr. Pilsener Bier
1 x 0,5 Ltr. Dunkles Bier
1 x 0,33 Ltr. Craft Coffee Ale
1 x 0,33 Ltr. Titbit Triple
1 x 0,33 Ltr. Smoky Stout
2 x Malzproben / Malt samples
1 x Flyerpaket (Alle Sorten inkl. Bierbeschreibung)
2 x Bierdeckel / Coaster
If you're not a member yet, you can join us here: https://metality.kurabu.com/en/join/step-1
You can now place your order for the next Metality Beer Tasting package! As always, 2€ per order go to Metality for our social projects.
All others may join the tasting live on our Facebook page as well as on Twitch (www.twitch.tv/metalityfoundation).
Not a member yet? Register for the "loudest network in the world" here: https://metality.kurabu.com/de/join/step-1
From now on, choose and order the tasting packages below - as always, 2€ per order will reach Metality for the good purpose!
Ordering link

https://brewers-fantasy.de/bestellen#!/products/metality-bierpaket
CU there!

´